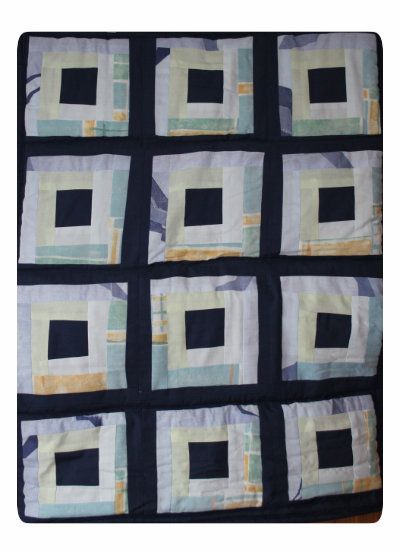 Two weeks ago my beautiful friend Amy gave birth to a gorgeous little boy. Since I found out she was pregnant I had the full intention to crochet her a really colourful baby blanket. I started on it back in November and made about 5/6 squares. As soon as I found out I was pregnant I became the slackest crocheter on the planet and before I knew it, he'd been born and I still didn't have a completed blanket...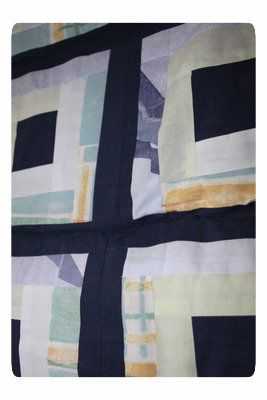 So I improvised. I bought myself a really basic quilting book and went to the charity shop by my work and found a fitted sheet and three pillow cases - all differing shades of blue to make my baby quilt / play mat out of. I've never quilted before so I chose a very basic 'log cabin' quit design. Normally I'm a 'cut it and see' kind of pattern maker, but as this was a gift for someone very special I took my time and was very meticulous about what I was doing. I surprised myself in the process. I spent an evening making the pattern, another evening cutting the pattern out of stiff cardboard to use as templates, another evening cutting the pattern pieces and a week or so of evening sewing to make it all up. Boy am I pleased with the result! Apart from the wadding, the whole thing is made from thrifted material and I am also proud of this fact! *big grin*
I just need to find time to go back home and visit that lovely little family and give it to him, but when that will be is anyone's guess. Life has been hectic here. I'm not enjoying pregnancy as much as I thought I would and am feeling guilty about it. That's another post in itself that I'll hopefully have the mental capacity to write soon.
I have 9 weeks left of my pregnancy (woah!) and I'm keeping my fingers crossed that they go smoothly. *crosses fingers and toes*